Pages
Search
Categories
Latest News
Archives
Links
Lewis Hamilton get a good second place in Europe GP in Valencia after Sebastian Vettel. Third place for Jenson Button. The race is decided by the terrible accident of Webber. Bad organization of commissioners regarding the safety car exit. Lewis pass the safety car a get a drive thru' … but fortunately Lewis can keep the second position.
Posted by admin
Posted in: Championship, News
Comments Off
June 2010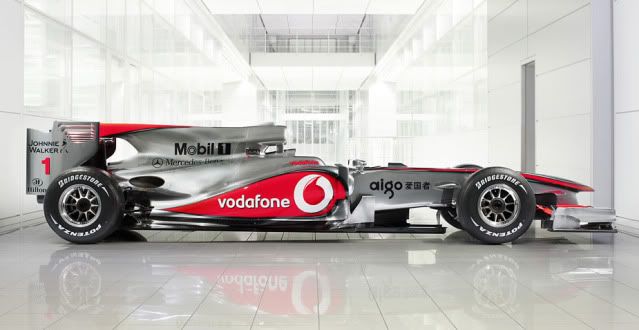 The new McLaren MP4-25 F1 car for the 2010 championship has been revealed on 29th Jan in Newbury by our Lewis Hamilton and his new teammate Jason Button.
Posted by admin
Posted in: Championship, Photos
Comments Off
February 2010
All the McLaren staff welcome "home" Lewis Hamilton after the victory in F1 Championship 2008
Posted by admin
Posted in: Championship
Comments Off
November 2008
World
Champion
2008 !!!
An extraordinary race, the victory came only at the last corner when Lewis was 6th. But Glock had a problem and Lewis takes the 5th position. Final result: Lewis 99 pts, Massa 98. Thanks Lewis!
Last lap:

Another video

fuel for the brazilian GP—-£500,000
tyres for brazilian GP—-£50,000
winning brazilian GP £250,000
watching the ferrari team cheering and in the same 10 seconds crying——–PRICELESS
Posted by admin
Posted in: Championship
Comments Off
November 2008
In the first GP by night Lewis Hamilton reach the 3rd place. The race was decided by the safety car due to Piquet accident. Massa finish without points due to a problem at his pit-stop. Lewis is now the leader with 84 points followed by Massa with 77.
Highlights:

Massa's problem:

Posted by admin
Posted in: Championship
Comments Off
September 2008
As you have probably heard Lewis Hamilton won a good race on Spa circuit in Belgian GP. At start in pole position, Lewis losed the lead to Raikkonen but keep the secon place before Massa. The rce continued with these positions until at 2 laps from the end, start raining on some parts of the circuit. Hamilton reached the leading Ferrari and start a duel with the Finnish. The British tried to overcome Raikkonen at chicane but he was obliged to cut the corner to avoid the collision. This allowed him to pass Ferrari, but correctly Lewis slow down to let Raikkonen pass him. Then Lewis took the wake of Ferrari and pass him at the following corner. The rain increase and both loses a couple of times the control, till Raikkonen hit the wall brokening his car. Now, Lewis could slow down and win the race. But…after a couple of hours the stewards decide to penalize with 25 sec. Lewis for having cut the corner. So the victory went to the other Ferrari and Hamilton was ranked 3rd.
My comment: There seems to be a strange system behind F1 to make Lewis not win penalizing him in every occasion and favour Ferrari. Probably it's all based on economical problem… a victory of Ferrari brings more $$ to the F1 leaders or… maybe they support Ferrari?? It's a real scandal how things are going. When Massa was making a collision in the pit lane was fined with 10k $… if yesterday Lewis hit Raikkonen in the chicane they would have shred his driving licence !?!?. We can wait the recourse to FIA…but I have no hope in it…best to stop watching F1 and start follow GP2…  more enjoy and more genuine show…
Highlights of the race (watch it with your eyes..):
[dailymotion x6onn7]
Posted by admin
Posted in: Championship
Comments Off
September 2008
In the first edition of the European Grand Prix on Valencia city circuit Lewis Hamilton takes the second place ont he starting grid. In front of the British Massa on Ferrari takes the pole position. Raikkonen on the second Ferrari is 4th and Lewis's team-mate Kovalainen is 5th.
1 Felipe Massa 1:38.989
2 Lewis Hamilton +0:00.771
3 Robert Kubica +0:00.964
4 Kimi Räikkönen Ferrari +0:01.060
5 Heikki Kovalainen +0:01.823
6 Sebastian Vettel +0:01.714
7 Jarno Trulli +0:01.881
8 Nick Heidfeld +0:02.203
9 Nico Rosberg +0:02.293
10 Sebastien Bourdais +0:02.322
11 Kazuki Nakajima
12 Fernando Alonso
13 Timo Glock
14 Mark Webber
15 Nelson Piquet
16 Jenson Button
17 David Coulthard
18 Giancarlo Fisichella
19 Rubens Barrichello
20 Adrian Sutil
Posted by admin
Posted in: Championship
Comments Off
August 2008
At start Felipe Massa gains 2 position (Kovalainen and Hamilton) taking the lead start gaining some secs on Lewis. At lap 40 Hamilton had a puntcture in his front left tyre forcing him to had his second pit stop returning on the track on 11th position. Lewis gains some position due to other's pit stops. At 3 laps from chequered flag Massa break his engine leaving the victory to Heikki Kovalainen. 2nd place for Timo Glock on Toyota and 3rd for Raikkonen. Lewis is 5th.
1 Heikki Kovalainen 1:37:27.067
2 Timo Glock +11.061
3 Kimi Räikkönen +16.856
4 Fernando Alonso +21.614
5 Lewis Hamilton +23.048
6 Nelson Piquet +32.298
7 Jarno Trulli +36.449
8 Robert Kubica +48.321
9 Mark Webber +58.834
10 Nick Heidfeld +1:07.709
11 David Coulthard
12 Jenson Button
13 Kazuki Nakajima
14 Nico Rosberg
15 Giancarlo Fisichella
16 Rubens Barrichello
Posted by admin
Posted in: Championship
Comments Off
August 2008
Another good saturday for Lewis and Mclaren. Hamilton takes the pole position with 1:20.889 and his team-mate Heikki Kovalainen takes the second place. Ferrari is 3rd with Massa and 6th with Raikkonen.
1 Lewis Hamilton 1:20.889
2 Heikki Kovalainen +0:00.996
3 Felipe Massa +0:01.047
4 Robert Kubica +0:01.137
5 Timo Glock +0:01.182
6 Kimi Räikkönen +0:01.372
7 Fernando Alonso +0:01.554
8 Mark Webber +0:01.588
9 Jarno Trulli +0:01.623
10 Nelson Piquet +0:02.227
11 Sebastian Vettel
12 Jenson Button
13 David Coulthard
14 Sebastien Bourdais
15 Nico Rosberg
16 Nick Heidfeld
17 Kazuki Nakajima
18 Rubens Barrichello
19 Giancarlo Fisichella
20 Adrian Sutil
Posted by admin
Posted in: Championship
Comments Off
August 2008
Lewis Hamilton center the 4th victory this year on Hockenheim circuit. As "usual" a great start for hime gaining half/one second per lap. At lap 36 safety car enters on the track due to an accident to Timo Glock. All the top drivers decide to make the pit stop but, with big surprise, McLaren keep Lewis on the track. Lewis is 1st and with 14 secs on Massa but he is now obliged to stop, re-entering on the track in 5th position (lap 51). Lewis in 9 laps overcome Kovalainen, Massa and then Piquet (Heidfeld stopped for his 2nd pit) reaching the first position and the victory.
1 Lewis Hamilton 1:31:20.874
2 Nelson Piquet 5.586
3 Felipe Massa 9.339
4 Nick Heidfeld 9.825
5 Heikki Kovalainen 12.411
6 Kimi Räikkönen 14.483
7 Robert Kubica 22.603
8 Sebastien Vettel 33.282
9 Jarno Trulli 37.199
10 Nico Rosberg 37.658
11 Fernando Alonso
12 Sebastien Bourdais
13 David Coulthard
14 Kazuki Nakajima
15 Adrian Sutil
16 Giancarlo Fisichella
17 Jenson Button
Posted by admin
Posted in: Championship
Comments Off
July 2008